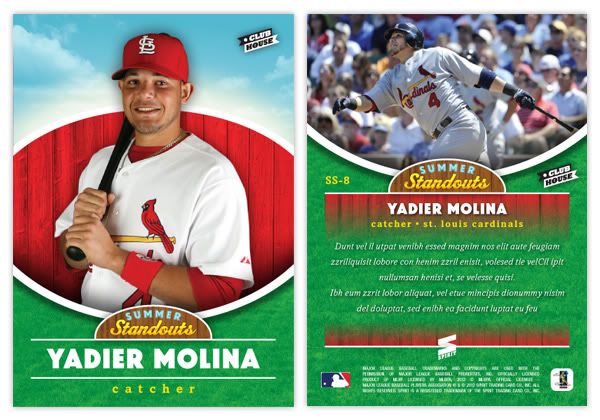 Time to switch gears a bit and introduce another insert for the Clubhouse set. This one is called Summer Standouts. Every team is represented here but by a player who may not necessarily be the #1 player on their squad.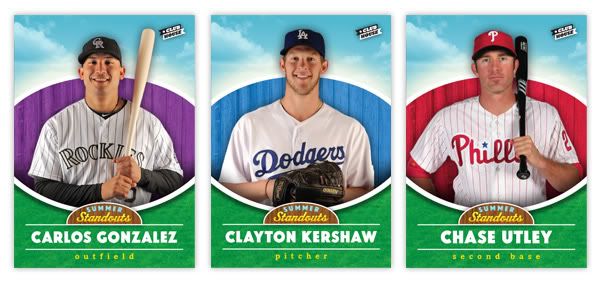 As you can tell from the design, we're really playing up the 'kid-friendly' angle here. We've got a bright, sunny sky and a nice patch of grass framing the top and bottom. The player photos here are the standard stand-and-smile shots from the team photo days at the start of the season. These are very friendly and just give a nice, welcoming feel to the cards. The team-color fence from the base design also made its way over here, though its space has been reduced to make room for the other elements. The player name is in a big, chunky sans-serif with their position in all lowercase beneath.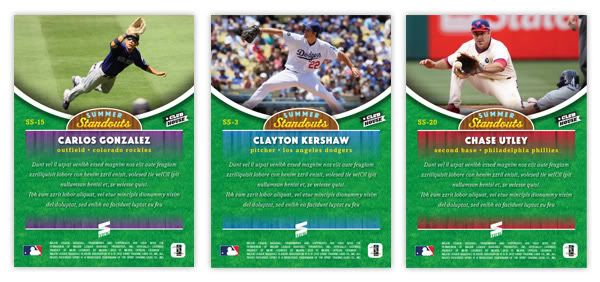 On the backside, the grass patch has extended upward a bit and the player photos are action shots during day games to keep that sunny feeling going. Player name, position and team are laid over the fences, which fade out for a brief write-up.
Pretty simple insert set. No foil or diecuts or sparkliness. Checklist is below. This may not look like the most appealing set to most collectors since there won't be anybody like Jeter or Braun, but there are still some pretty popular guys from stacked teams.
SS1 - Wandy Rodriguez (HOU)
SS2 - Torii Hunter (LAA)
SS3 - Clayton Kershaw (LAD)
SS4 - Matt Cain (SF)
SS5 - Mark Teixeira (NYY)
SS6 - Alex Avila (DET)
SS7 - Yadier Molina (STL)
SS8 - J.P. Arencibia (TOR)
SS9 - Brian McCann (ATL)
SS10 - Franklin Gutierrez (SEA)
SS11 - Justin Morneau (MIN)
SS12 - Kevin Youkilis (BOS)
SS13 - Jay Bruce (CIN)
SS14 - Jayson Werth (WAS)
SS15 - Carlos Gonzalez (COL)
SS16 - David Price (TB)
SS17 - Daniel Hudson (ARZ)
SS18 - Michael Young (TEX)
SS19 - Billy Butler (KC)
SS20 - Chase Utley (PHI)
SS21 - Logan Morrison (MIA)
SS22 - Rickie Weeks (MIL)
SS23 - Darwin Barney (CHC)
SS24 - Neil Walker (PIT)
SS25 - Gordon Beckham (CWS)
SS26 - Daniel Murphy (NYM)
SS27 - J.J. Hardy (BAL)
SS28 - Coco Crisp (OAK)
SS29 - Asdrubal Cabrera (CLE)
SS30 - Clayton Richard (SD)