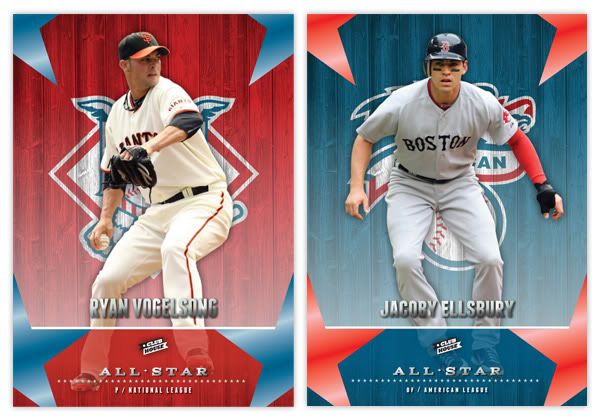 The first insert for the Clubhouse set is kind of a no-brainer. As early as 1958, all-star cards were showing up in the flagship base set. Back then it was maybe a couple dozen, usually just the starters. But with the bloated rosters of today's All-Star Game, there's just no room for an 80+ card subset. For an insert set, however, that sounds just about right. The 2011 MLB all-star squads were 41 (NL) and 43 (AL) players deep, making an 84-card set. That means you'll get the superstars like Pujols, Jeter and Halladay but also guys like Ryan Vogelsong up there.
The design carries the wooden fence motif from the Clubhouse base card, but with the NL and AL logos instead of team logos. The colors are blue and white with each league alternating the dominant hue. We have player cutouts once again, but what really sets these apart from the base design (other than the vertical layout) is the shininess. In addition to the player name and 'all-star' in silver foil, the 4 stars shooting off the edges of each corner have a solid, colorful sheen to them as well (think 2011 Topps Town.)
For the back, we have a player portrait and name centered at the top and a brief write-up of their all-star season below. The background has the alternating red and blue as well with another explosion of stars. The numbering is similar to the Spirit Award Winners inserts, with a _of_ for each league and _of_ for the whole set.
There's nothing wrong with shininess if done in moderation. Finding these inserts between the no-frills base will be a great charge for those busting wax. I'd like for them to not be a 1-per pack thing since that kind of chips away the 'specialness.' I know any time I pull a Topps Town or Hometown Heroes card, it feels like getting Tootsie Roll in your Halloween bag. It's better than those orange and black taffies, but not as exciting as a Snickers or Reese's Cup.