Well, it looks like Topps finally opened the Golden Giveaway gates yesterday. I'm still on the fence as to whether I'm going to redeem my codes or just sell/auction them off on eBay. I'll probably wait a few weeks to hear people's thoughts on the GG before deciding either way. But this seems like the perfect time to introduce something similar to Topps' online endeavors but potentially better.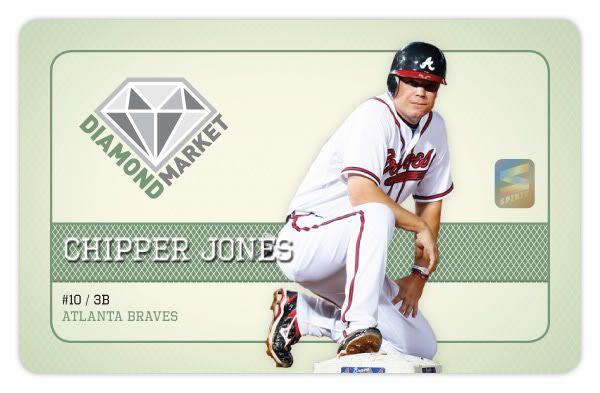 Say hello to Spirit's Diamond Market. It's similar to the MCG, DG, and GG in that you get a card with a code, entered said code online and unlock 'stuff.' Where it's different starts with the code cards themselves. Instead of just some flimsy, over-crowded card that you throw away once the code has been redeemed, these Diamond Market Code Cards are worth keeping in your collection. They're shaped like credit/debit cards with the round edges and printed on a similar plastic-like stock. There are 20 different players depicted in the 'set' so it's worth collecting even after the codes have been redeemed.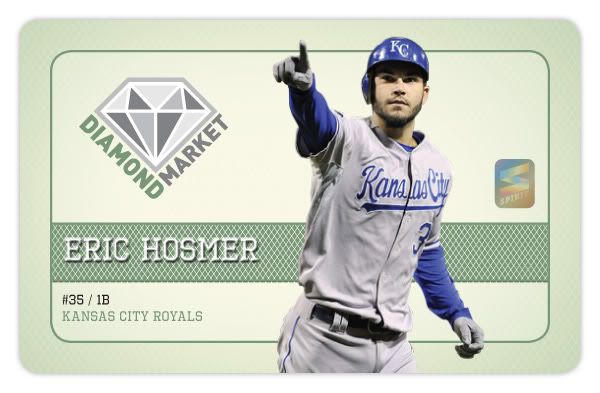 The credit/debit card motif isn't just for looks, though the hologram Spirit logo and player name embossing does look neat. The Diamond Market itself uses the concept of accruing credits into your account and then using them to 'buy' exclusive cards available only through the Diamond Market. When you enter a code, it adds a value of 10, 25, 50, or 100 credits to your account.
Instead of just randomly getting whatever card you happen to 'unlock,' the choice is yours as to which cards to add to your collection. No more 1988 Chris Bosios or 1980 Ed Halickis languishing in your 'portfolio' for perpetuity because they aren't worth the $10+ it takes to ship the batch of junk to you. These are brand new cards of players that people actively collect.
These cards are inserted into Spirit Series 1 packs at a rate somewhere between conventional inserts and relic cards. Something like 1:16 or so. They won't be as easy to pull as Topps' code cards but they won't be so rare that you have to buy box after box just to rack up enough credits to broaden your options. Because, as Part 2 of this post will show, you might want to save up some credits to really splurge.